Baby Clothes Boutique - What You Need to Know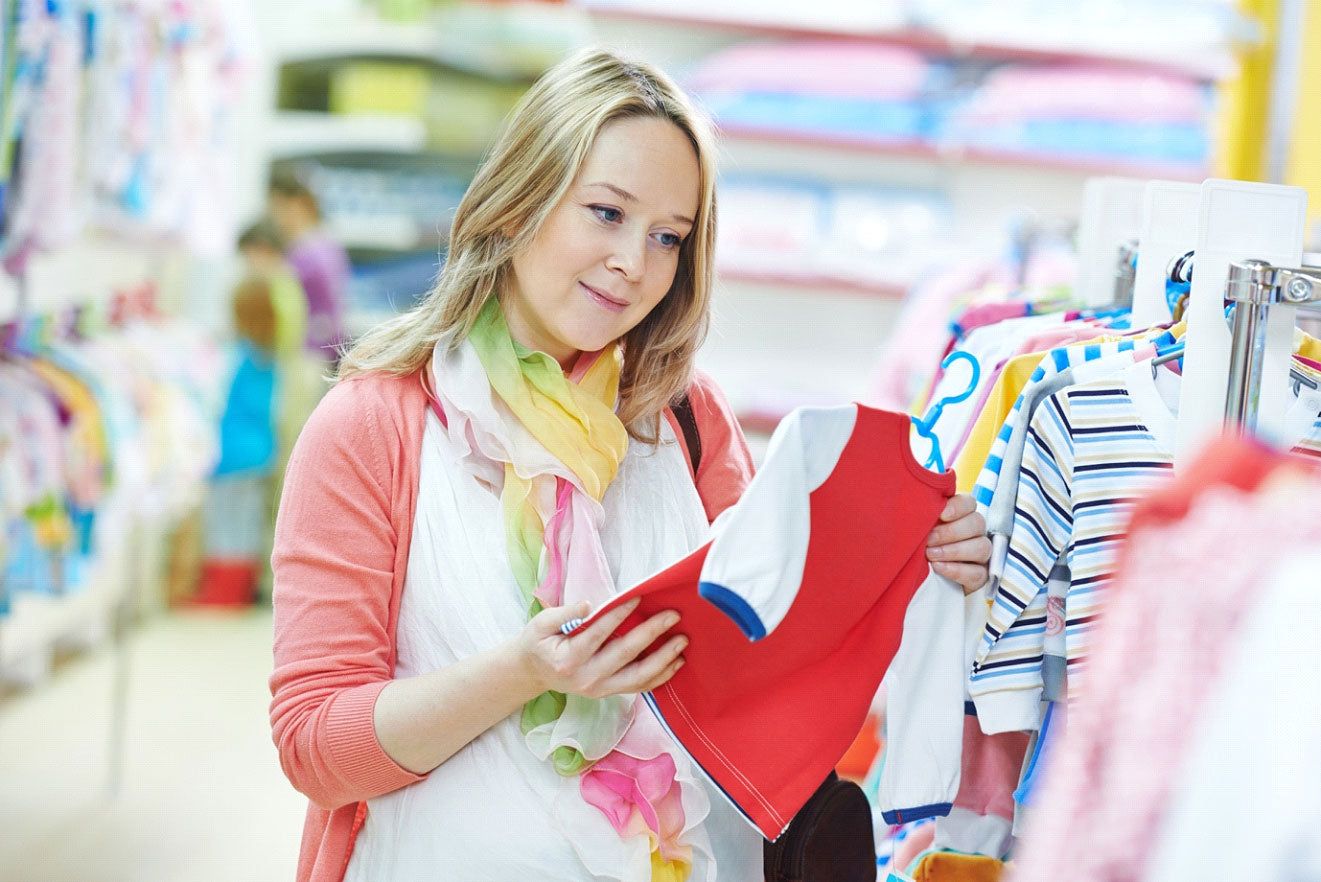 As a new parent, one of your main concerns may be your newborn's wardrobe. The cost of buying baby clothes can add up quickly, especially when little ones grow so quickly, but it's also one of the most exciting aspects of your new bundle of joy. There will be times when you'll be too tired to care whether your newborn's outfit is color-coordinated, but there will also be instances when you want your baby to stand out. Here are some ideas and tips for balancing style and practicality when dressing your little one.
Here are some of the most important factors to keep in mind the next time you're looking for outfits in your favorite baby clothes boutique:
1. Fabric
One of your first impulses as a new mom may be to dress your little one in cute baby clothes newborn. While many of these adorable outfits are usually well made, it's not uncommon to come across clothes that irritate your baby's delicate skin - in most cases, the fabric is the main culprit. To prevent rashes and other skin irritations, opt to go for fabrics like rayon from bamboo, cotton (especially organic cotton), and azlon from soy.
2. Style and functionality
Styling your little one isn't all about finding the trendiest designer newborn baby clothes - in fact, it's mostly about picking clothes that will be comfortable and practical. Keep in mind that babies spend most of their day sleeping, so items like onesies, kimono bodysuits, baby footies, and sleep sacks are ideal. You also want to pick styles of clothing that will be easy to put on and take off. 
3. Safety
When buying clothes for your newborn, you want to steer clear of items that feature itchy or irritating embroidery lace, embroidery, and decorations. When choosing baby sleepwear, pick designs that are made from flame-resistant fabrics or snug-fitting to protect babies from burns.
4. Size
Choosing the appropriate size for your little one not only keeps him/her comfortable but also allows easier movement. Most cloth brands have standard measurements to help guide you choose a size that will fit your little one well.
5. Season 
Whether you're shopping in your local baby clothes boutique or online, factor in the season as well as the geographical climate you're in. always purchase season-appropriate clothing and think ahead.
Benefits of baby clothes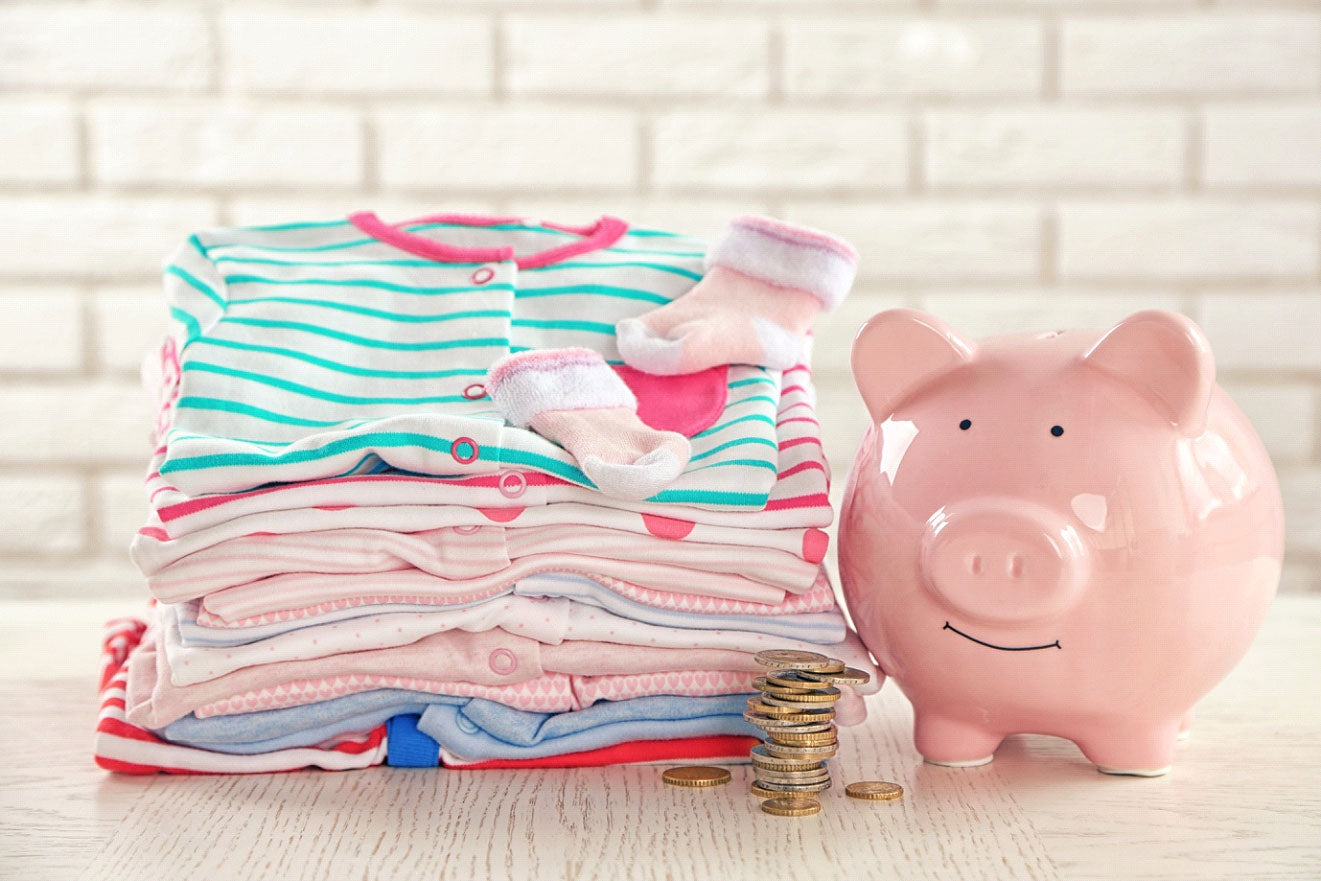 Baby clothes are a must-have when you have a little one. Here are some of the benefits of organic baby clothing:
No pesticides or chemicals
Hazardous pesticides and chemicals are not used in the production of organic fabric used to make baby clothes. The knowledge that your little one's clothing isn't contaminated with harmful chemicals can give you additional peace of mind as a parent.
The production of organic baby clothes doesn't involve chemical dyeing or processing, which makes them safe and less likely to irritate sensitive baby skin.
Baby clothes (especially organic varieties) are soft and comfortable against your little one's skin.
Baby clothing typically requires frequent washing, which is why it must be durable.
Baby clothes are regularly inspected to ensure that they meet the high standards required. 
Importance of baby clothes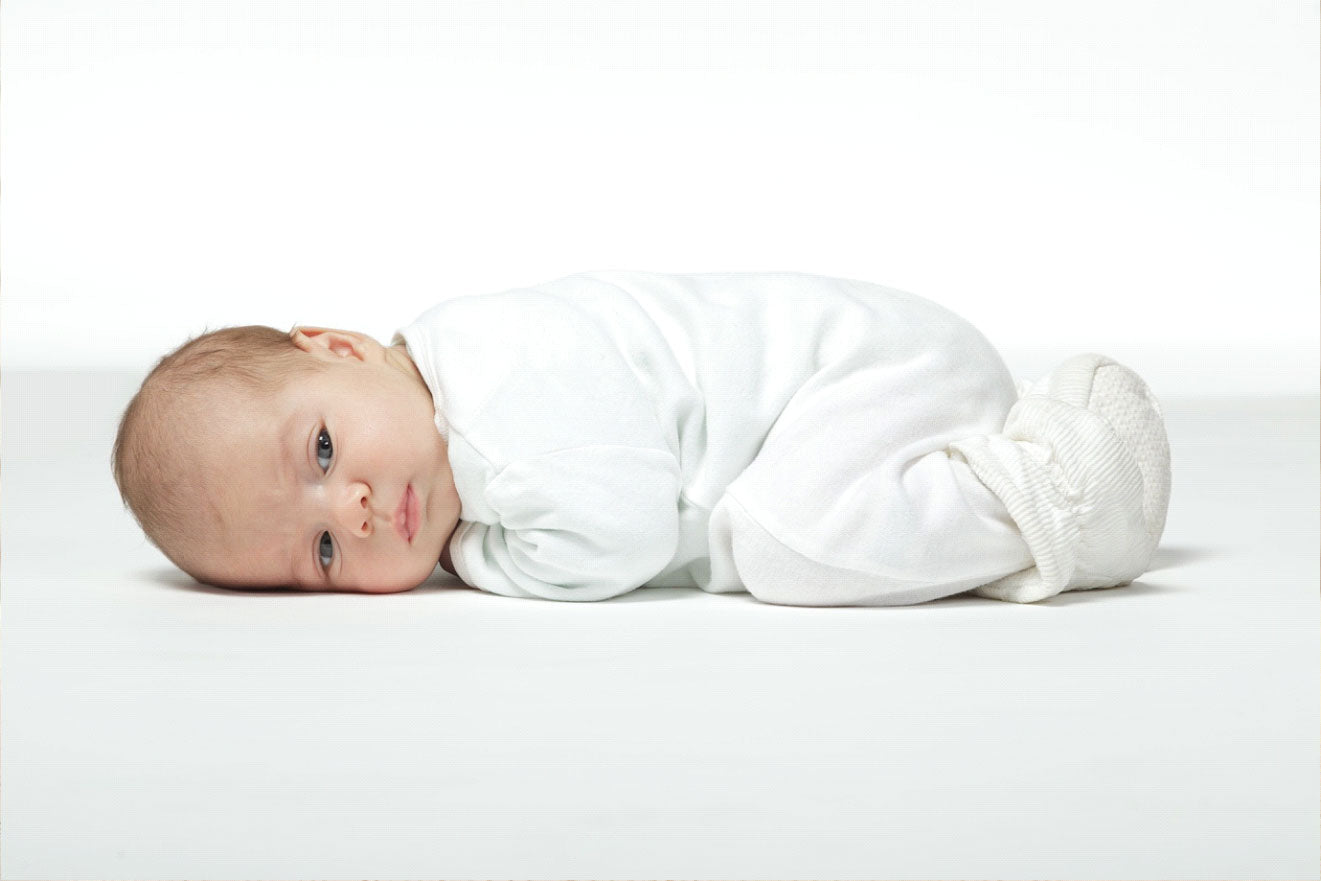 While babies grow rapidly, it doesn't mean that their clothes aren't an important consideration. Here are some of the top reasons why you might want to invest in baby clothes:
1. Babies need a frequent change of clothes
Babies are messy. As a new parent, you might find yourself washing more tiny clothes than adult clothes. Whether it's poop, pee, spit-up, vomiting, or any other kind of blowout, you may need to change your baby's outfit several times a day. In this regard, you'll want to have a few spare sets of clothes.
2. Clothes make them look even cuter
There's nothing wrong with simply wanting your little one to look adorable in their outfit. Whilst it's often argued that babies are too young to grasp the concept of fashion, you're at liberty to express your love for your child with some cute and colorful clothing.
3. Keep up with their growth rate
As previously mentioned, babies grow surprisingly fast. As a result, you'll find yourself needing new clothes pretty often. A great tip is to have a larger set of clothes that your little one can grow into.
Organic Baby Clothes for Your Little One
As a parent, you naturally want to do everything you can to ensure that your little one has the best in life. Clothing made from organic materials has become popular over the past couple of years because they are natural and aren't drenched in potentially harmful chemicals. Furthermore, there's no shortage of cute outfits made from organic materials. Below is a look at why organic baby clothes are the most suitable option for your little one.
The best type of baby clothes
Organic baby clothing is generally better than conventional clothing for the following reasons:
The best newborn outfits in the market are made from organic materials (organic cotton, linen, soya fabric, hemp, etc.) which are known for their durability. Organic cotton, for example, has resilient fibers that have not been damaged by chemicals during the cultivation and weaving process. Therefore, even with frequent washes, it will age gracefully.
If you want comfortable outfits for your little one, choose clothes made from organic materials like organic cotton and linen. Conventional fabrics are often drenched in chemicals, which may cause them to lose their soft texture and become scratchy and coarse. By switching to organic baby clothes, you're maximizing your little one's comfort and ensuring that they stay itch-free.
It's gentler on your baby's skin
As organic baby clothes are soft and free from chemicals, your child is less likely to develop skin conditions such as dermatitis, eczema, and skin allergies. 
It's free from toxic chemicals
A baby's skin is significantly thinner, more sensitive, and more absorbent than adult skin. Therefore, a baby's skin is more susceptible to toxic chemicals which may be present in materials like conventional cotton. Organic materials on the other hand are free of toxic irritants, so you can rest easy knowing that your little one isn't exposed to potentially harmful chemicals.
It's environmentally friendly
Conventional cotton is especially damaging to the surrounding plants and wildlife. Furthermore, it requires enormous amounts of water to cultivate. Pesticides and insecticides are also sprayed during cultivation, with the residue leaking into local water bodies and contaminating the soil. Contrarily, organic cotton is cultivated without the use of chemicals, and farmers opt to recycle rainwater to avoid wasting water from conservations. 
Baby Clothes Boutique: Looking For The Perfect Fit?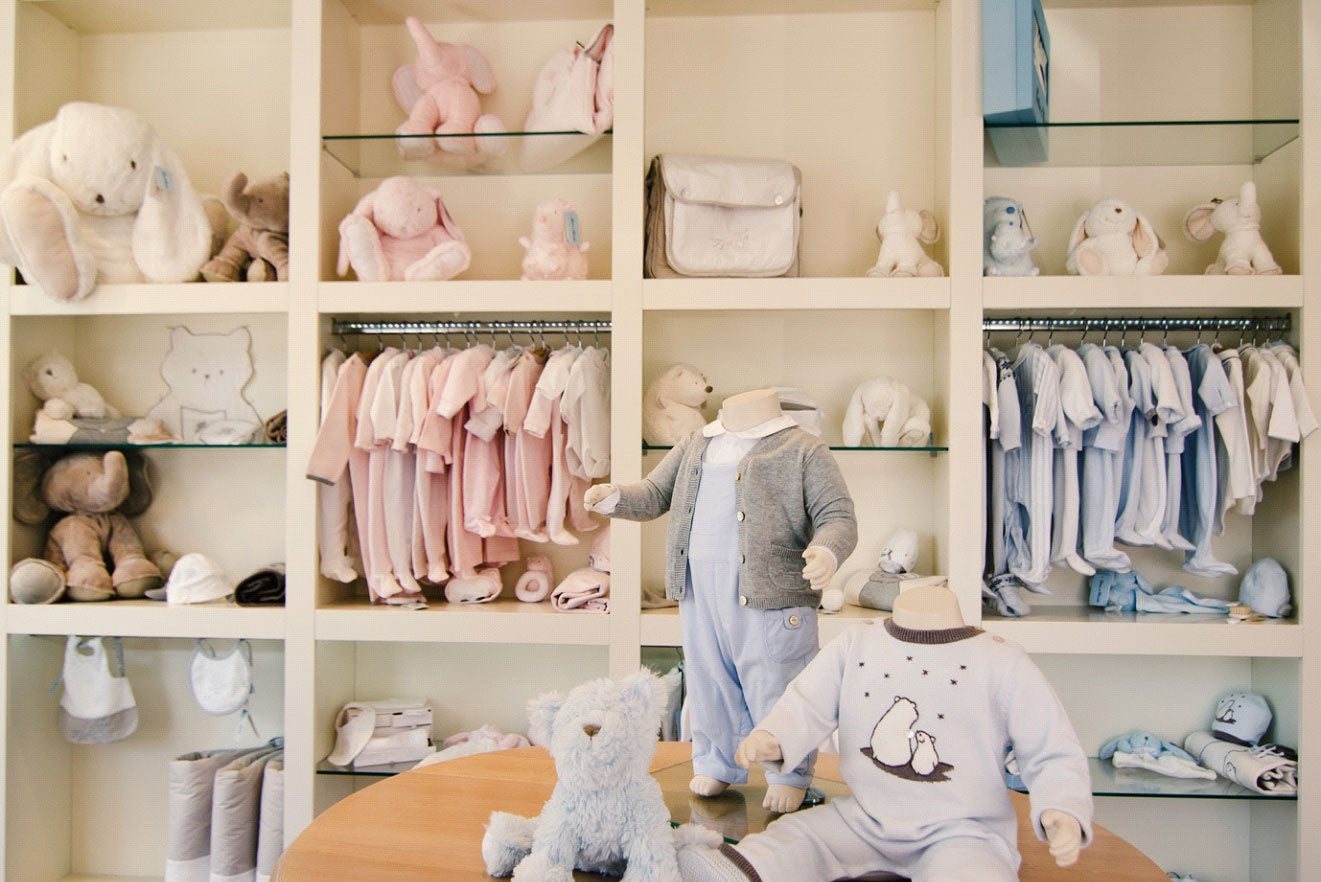 Buying clothes for your little one is one of the most exciting aspects of parenthood, but when you have so many choices at hand, it can get a little overwhelming. When shopping, you always want to be guided by your little one's weight and height rather than by their age. Consider going for clothing items that are one size ahead of your child's actual age so that you get the most use out of them. For example, if your baby is six months old, he/she can wear clothes in size 9-12 months.
If you're shopping for your little one while still pregnant, it's generally best to buy clothes in the 0-3 months category, as newborns grow pretty quickly. That said, you never want to dress your little one in clothes that are too big, especially sleepwear. This could increase the risk of suffocation.
Keep in mind that sizes tend to vary from brand to brand, so always check the packaging or label before you purchase to see what will best suit your little one.
Baby size chart
Below is an infant size chart that consists of a couple of typical baby clothes sizes by weight:
| | | |
| --- | --- | --- |
| Age | Weight | Height |
| Premature newborn | 5lbs/2.26kg | 14-16 inches/35.56-40.64cm |
| Full-term newborn | 7lbs/3.175kg | 19-23 inches/48.26-58.43cm |
| 0-3 months | 7-12lbs/3.17-5.44kg | 19-23 inches/48.26-58.43cm |
| 3-6 months | 12-16lbs/5.44-7.26kg | 23-26 inches/53.43-66.04cm |
| 6-9 months | 16-20lbs/7.26-9.07kg | 25-28 inches/63.5-71.12cm |
| 9-12 months | 22lb/9.97kg | 31.49 inches/80cm |
| 12-18 months | 24lb/10.88kg | 33.85 inches/86cm |
| 18-24 months | 28lb/12.70kg | 36.22 inches/92cm |
"Must Have" Outfits for Baby Boys and Girls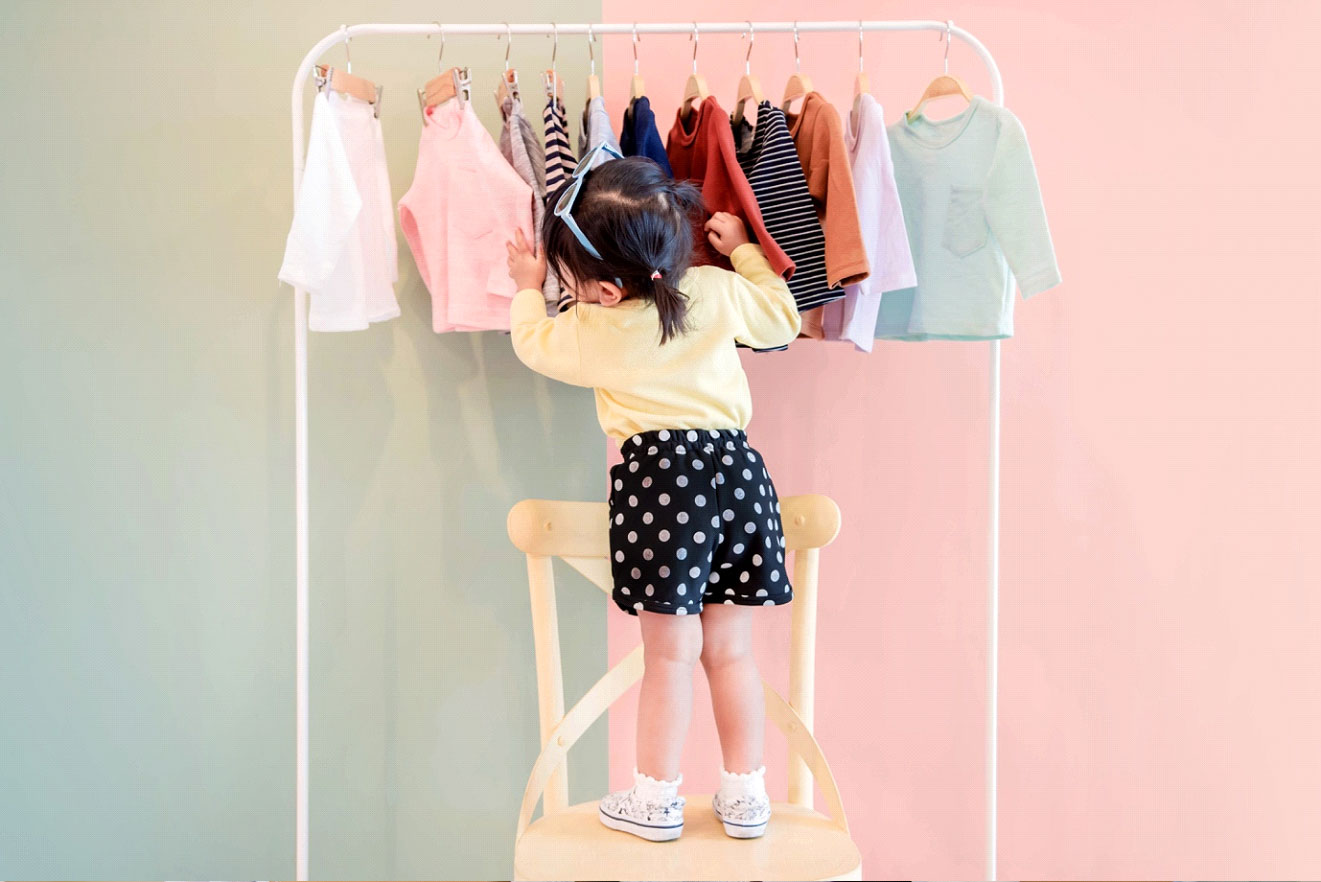 Whether you're putting together your baby registry, sorting out your baby shower gifts, or gazing into the eyes of your adorable newborn, chances are you may be wondering if you have all the essential outfits for your little one. From a coming-home-from-hospital outfit to everyday basics, there are several different types of baby clothes you need to stock op on.
Your Baby's First Outfit
Shopping for your baby's first outfit is exciting, but with so many adorable options at hand, you may be at a loss on what to go for.  Regardless of what you choose, the most important thing is to ensure that it's soft, comfortable, and warm enough. Whether your little one is in a car seat or carrycot, dressing them in fuss-free clothing will help them nap, while warm layers will help them keep their body temperature at a comfortable level. Here are suggestions to keep in mind:
A onesie is a perfect basic layer. If the baby is not warm enough, you can add more thin layers of clothing, and if it gets too hot, the onesie itself is sufficient. 
Even in the summer, newborns need to wear a hat because they tend to lose a lot of heat from their heads. If your baby's first outfit comes with a hat, make sure it fits their tiny head. If the hat is too big, it could slip down and become a suffocating hazard.
Babies tend to kick off their socks easily, but they need that extra layer to keep their feet warm. 
You'll want to have a blanket handy that you can use as an additional layer in case it's chilly.
5 Tips for Buying Baby Clothes
Below are some tips for baby clothes shopping to help you buy wisely and get the best value for your money:
Don't be afraid to size up
Some brands carry clothing items that can be on the small side, plus babies generally grow quickly. Most babies can wear clothes that are a size up and grow into them.
Consider buying clothes on sale
If your baby is 6 months old in January buy clothes for 12-18 months in anticipation of the next winter. In upscale baby shops, consider buying clothes that are on sale. In most shops, baby clothes will be on sale depending on the season, so take advantage of the lower prices whenever possible.
Choose up-market baby clothes carefully
You don't need to pay top dollar for onesies, vests, tights, or plain tops, for example. If you can't resist the temptation of pricey items consider mixing in outfits from your local baby and toddler boutique with some branded clothes and you'll the impression of full designer wear for a fraction of the cost.
Opt to go for functional clothing
It's easy to get caught up in what looks the cutest on your little one, but you're going to want to go for clothes that will be easy to put on and take off. Clothing with snaps or stretchy elastic pants or shirts will make it easy to change diapers or outfits. Steer clear of buttons - babies tend to get wiggly and antsy, and it can take quite a while to button up a piece of clothing than you might expect.
Consider secondhand baby clothes
You may dismiss used clothing, but chances are your little bundle of joy will grow so quickly and sometimes will only wear an outfit a handful of times. Additionally, they will need to be changed several times a day thanks to diaper blowouts and spit-up, and that means they may spend too long in an outfit. Secondhand clothing comes in handy for these purposes.
Cute Baby Girl Dresses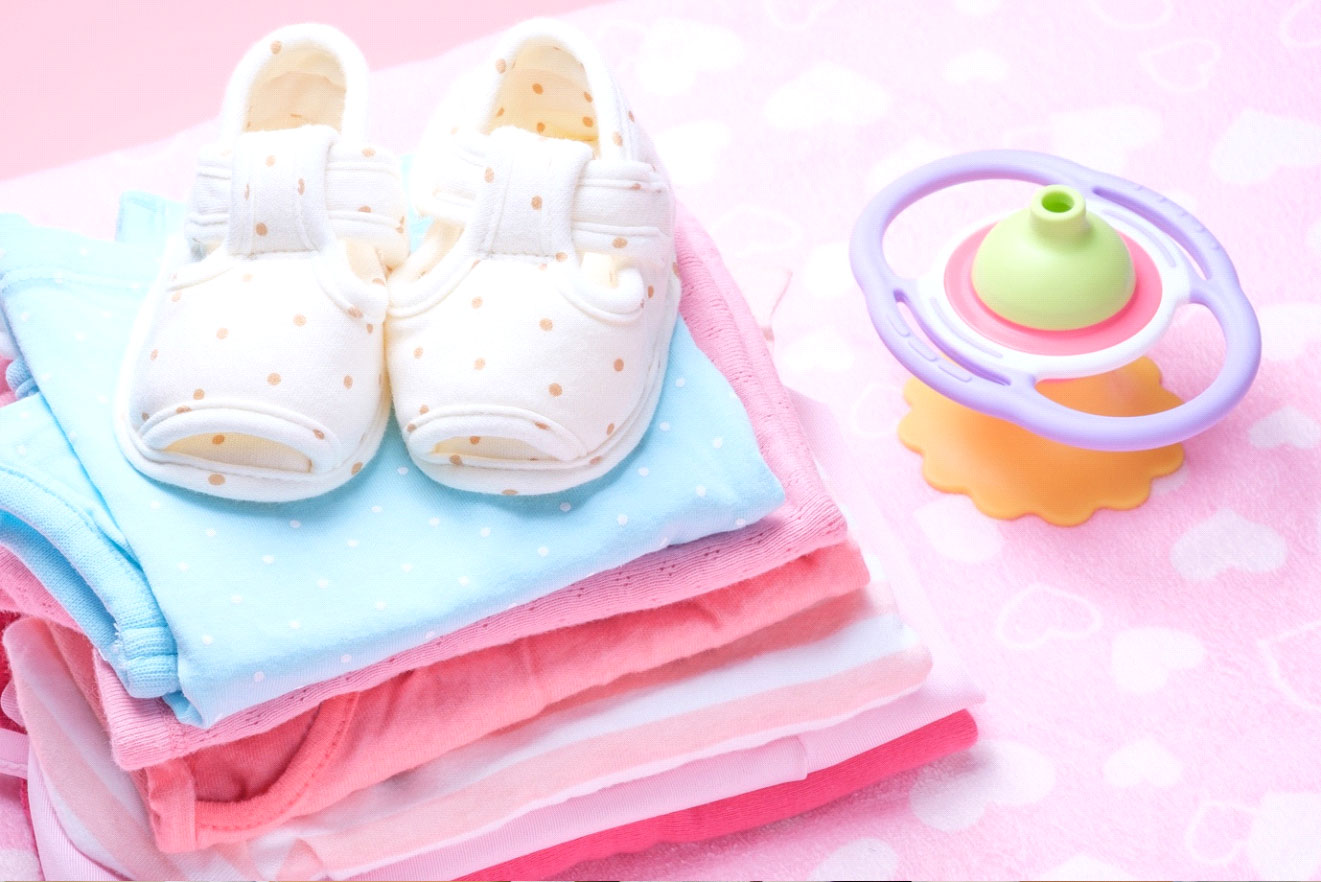 Styling your baby girl can be a fun and enjoyable endeavor. Here are some tips on how to choose cute baby girl outfits:
Girls onesies
Newborn baby girl onesies come in a wide variety of styles, from frilly sleeves to colorful patterns. You can dress up onesies with cute sweaters or by adding a tutu to the ensemble.
Girls rompers
Buying rompers for your baby girl gives you a lot of options in terms of style. A baby girl summer romper can be worn over a onesie or dressed up with knee-length socks or stockings.
Girls sweaters and hoodie
Girl sweaters and hoodies are highly versatile. Make sure to get several in different colors to brighten up those chilly overcast days.
Best baby boy clothes
Keep the following tips in mind when choosing cute baby boy outfits:
Boys onesies
Onesies for your baby boy typically come in more solid and neutral colors and patterns. If you want to add a pop of color to your little man's closet, brightly colored cute baby boy onesies are the way to go.
Boys rompers
Rompers for your little one don't have to be plain and boring.  If you're wondering how to style baby boy rompers, try mixing and matching patterns. You can do this by choosing patterns from the same, complementing, or contrasting color palettes.
Boys sweaters and hoodie
Baby boy and girl sweaters and hoodies are quite similar, and what you choose for your little man will come down to your preferences.
Baby Accessories: The Ultimate Resource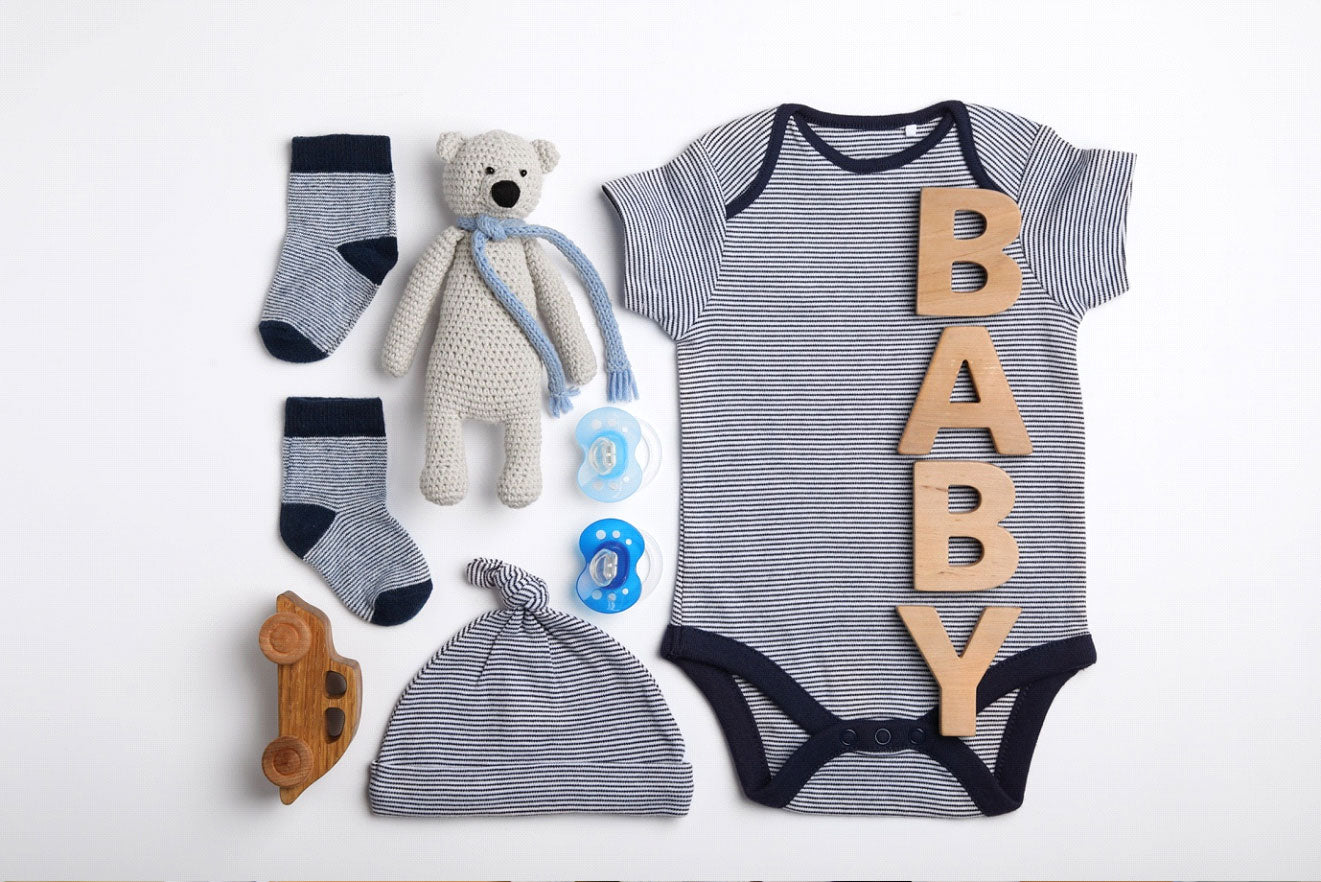 Accessories can elevate your baby's outfit to a whole new level of cuteness. They are easier to play around with, allowing you to explore different options of styling. Here are some tips on how to use accessories in a fun and adorable way.
Accessories to use to style your baby's outfits
The right accessories can make even the plainest outfit stylish. Choose newborn baby accessories that not only match up with different outfits but are comfortable and pose little to no risk to your little one. Here are some popular accessories to try:
Headbands are some of the most popular hair accessories for babies. While they are traditionally considered to be baby girl accessories, some headband designs have become popular for baby boys as well. Make your little one stand out with stylish headband baby girls hair accessories. Be sure to go for one that is made of a soft, breathable material to prevent irritation.
Mittens keep your little one's hands warm and toasty.
A hat and scarf set will keep your baby's head, ears, and neck warm and cozy in chilly as well as elevate their outfit.
Choosing the perfect footwear for your baby
There's a lot that goes into buying shoes for your little one, especially when you consider the fact that footwear has a significant impact on the health of their feet. Here are some of the factors to keep in mind when choosing footwear for your baby:
1. Age
Foot development varies depending on a child's age. Infants' feet, for instance, are made up of soft bones and are very delicate as a result. While infant shoes or even infants sandals may look cute, you should probably stick to soft shoes or baby socks to ensure ultimate comfort. Toddlers, on the other hand, play and run around quite a bit and will therefore need to have their feet protected especially if they're outside. Any shoes they wear, whether it's baby sneakers or more formal shoes, should have enough room in the toe box to allow their toes to move around comfortably while still offering support to the ankle.
2. Footwear size
Measure your child's feet before buying them shoes so that whatever you get will fit them properly. For the best results, size your little one's feet for shoes at the end of the day when the feet are usually at their largest.
3. Shoe material
Your child's shoes should be made from material that is breathable, flexible, and adept at wicking moisture. Natural materials like leather and canvas are usually better suited for making children's shoes.
4. Shoe structure 
Choose footwear with flexible soles that will easily bend with your little one's feet without compromising on support and stabilization of the foot. The shoe structure should also provide adequate shock absorption to reduce the risk of injuries to the feet.
"Strollers" a perfect baby's ride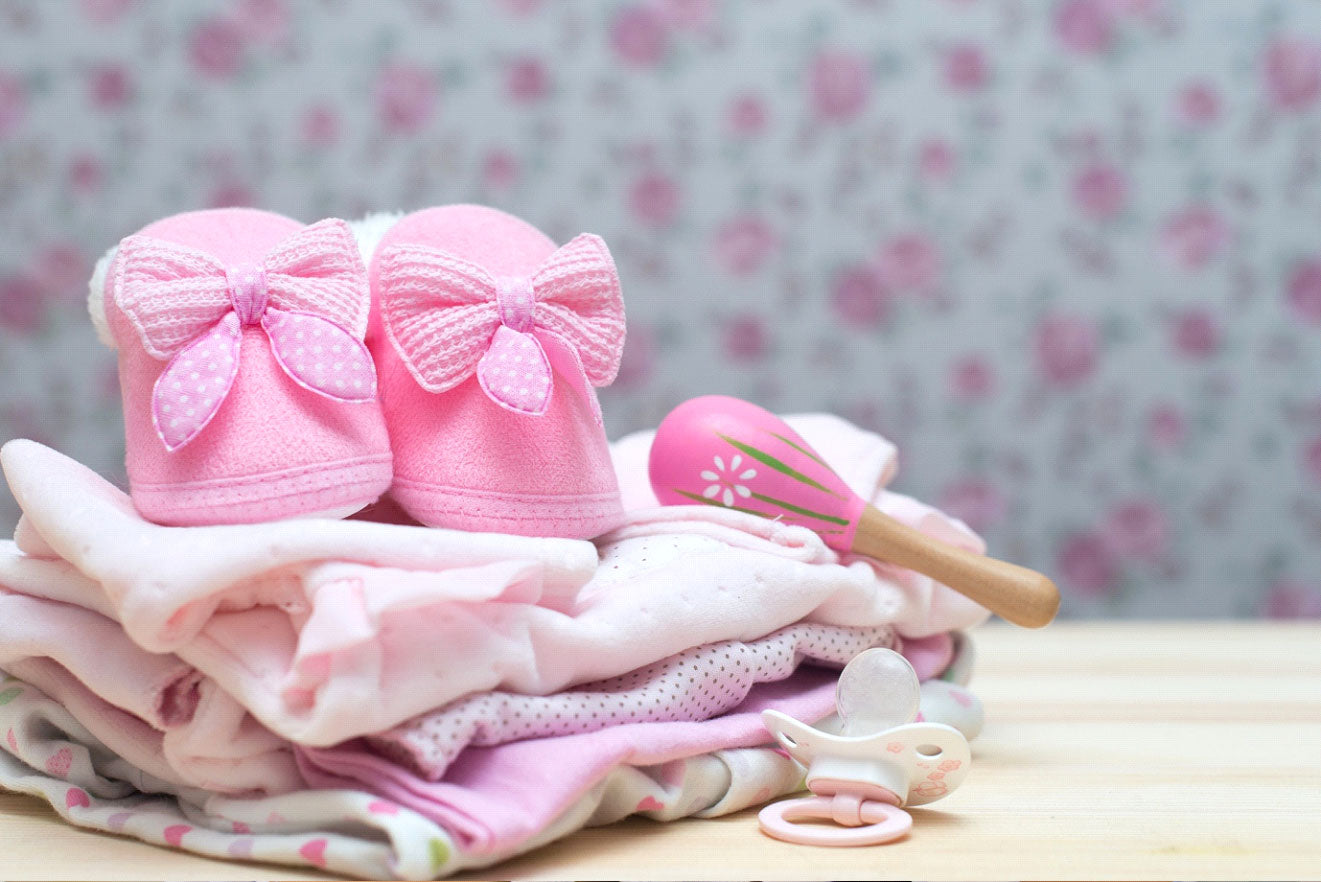 Whether you're taking a stroll around the neighborhood or going for a grocery run, a stroller is an essential gear to have for life on the go with your little one. Quality strollers not only provide a safe space for your little one to sit or sleep but also feature storage space for you to stash all of the baby essentials you need on the go. However, with different types of models available on the market, it's quite difficult to determine what is best for you and your little one. 
How do you determine the best stroller for your baby?
A quality stroller is a must-have item. However, this important gear can range in price from a measly $50 to upwards of thousands of dollars, so you'll want to make sure you're getting your money's worth. Here are some basic considerations to keep in mind when choosing a stroller.
1. How long do you plan to use it?
While you may fork over more cash for certain stroller models, adaptability from infancy through toddler stages could help you make savings in the long run. If you plan to use the same stroller for multiple kids, shop for long-term value, and consider going for multipurpose strollers that you can add onto - a car seat, an additional seat, or a stand-and-ride bumper.
2. Is it easy to use?
If you're shopping in-store, make a point of doing a test drive in person. Can you steer the stroller you're testing smoothly? How does it handle a sudden turn? If you're shopping online, read the reviews posted by verified customers before purchasing to determine if other people had an easy time using the stroller you're considering.
3. Are the safety features up to standard?
Safety is a top priority when choosing a stroller. In addition to meeting the basic safety standards, safe strollers should also have the following features:
A five-point safety harness

Functioning brakes

Smooth edges

Well-made hinges

A canopy or shade for walks in the sun (or rain)
4. Is the stroller compatible with your lifestyle?
Your stroller should adequately meet your lifestyle needs, whether you live in the city and plan to use it every day or live in the suburbs and only need a stroller for strolls around the neighborhood and occasional trips.
5. Is it affordable?
Keep your budget in mind when shopping for strollers. While expensive strollers often feature things like easier maneuverability and better suspension systems, it's also quite possible to get an affordable stroller model that will serve you well for much less.
6. How big is your family?
Consider the size of your family in the long run. If you ultimately plan on having more than one child, consider going for a model that can be converted to accommodate more children.
How To Clean Baby Clothes - A Step-By-Step Guide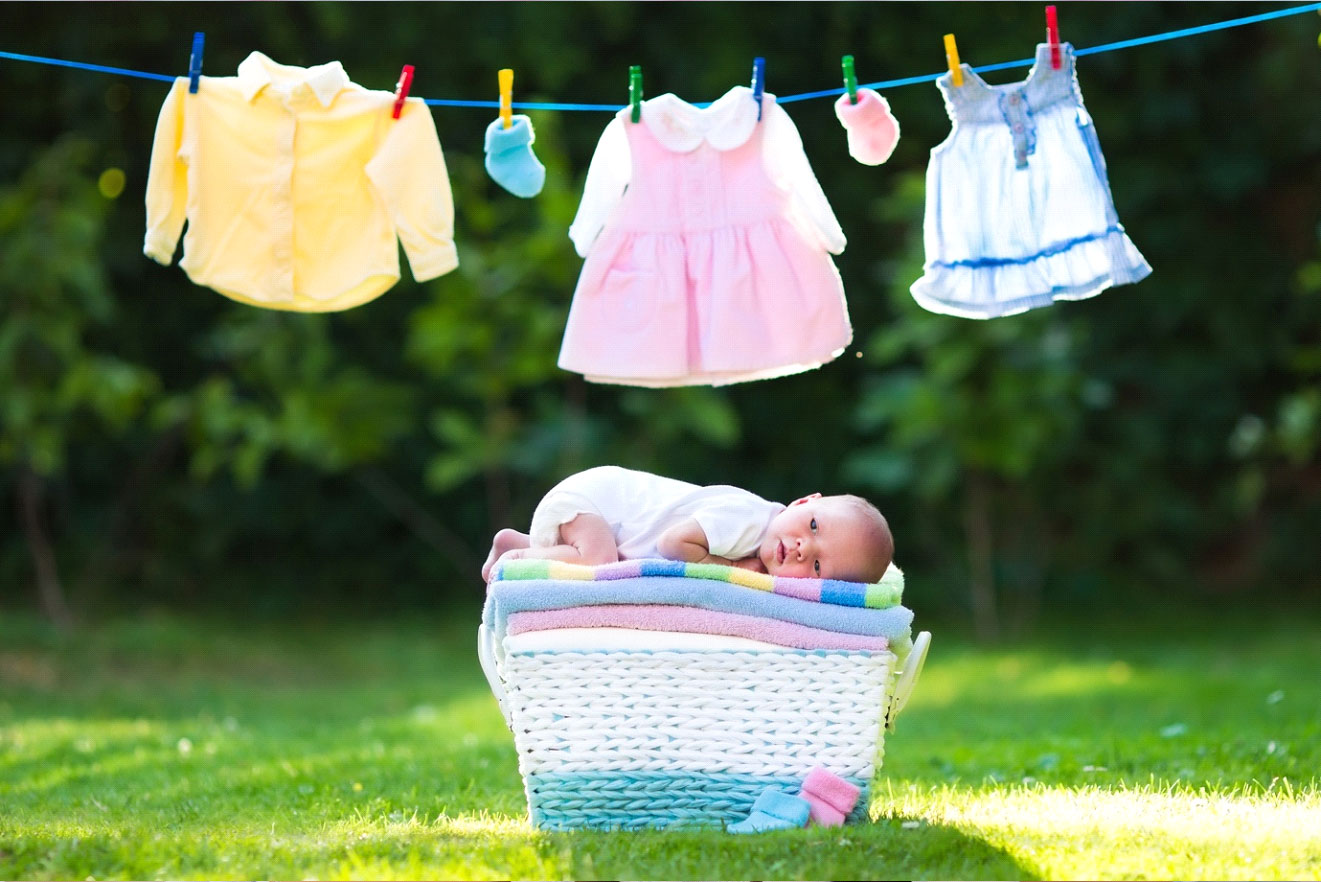 Baby clothes are adorable and exhilarating to buy, but have you considered the prospect of washing all those miniature shirts and dainty little socks? Cleaning baby clothes requires a lot of care, as little ones have delicate skin that can be easily irritated by the wrong detergents. So how should you go about it? Don't worry, below is a simple step-by-step guide to cleaning clothes.
1. Check the garment care label
Be sure to check the garment care label to see if there are any special washing instructions: for example, some baby clothes may be dry wash only or require hand-washing.
2. Prepare the clothes
The next step is to sort the clothes by color. Separate darker shade from whites to avoid the risk of discoloration. Prepare the clothes for machine washing by securing the buttons, snaps, zippers, and other closures, and then turn them inside out. You'll want to place baby socks, mittens, and other small clothing items in a mesh bag to secure them.
3. Select a detergent
Go for a clothes cleaner that will protect your baby's delicate, sensitive skin while still removing dirt and stains from clothes.
4. Wash and dry
Generally, you'll want to use cold water for most items and hot water for diapers. You can air dry clean clothes or toss them in the dryer if the fabric care label allows.
Get Baby Clothes Delivered To Your Doorstep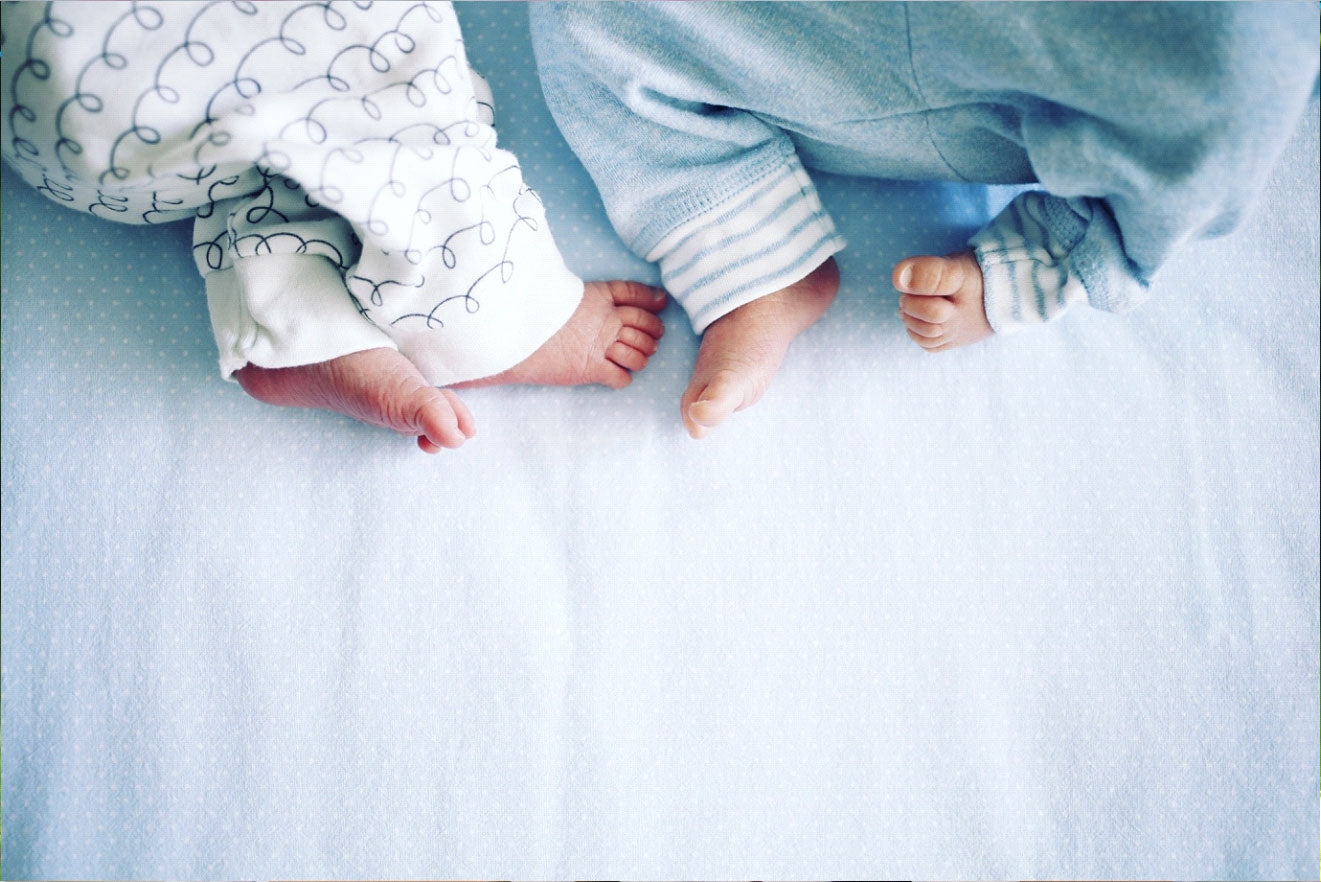 Baby clothes shopping online is much easier than having to roam from shop to shop in your area in search of the right outfit. Here are a handful of the biggest perks associated with buying clothes for your little one online.
1. Shop at your convenience
One of the major upsides of online baby clothes shopping is that you can shop whenever you want. You can easily hop online at work or when your little one is down for a nap. As a parent, you likely have multiple tasks at hand, and the last thing you may want to do is spend that precious time you have heading out to a local baby shop.
2. No need to haul your purchases out of the shop
Another perk to consider is that you don't have to haul your purchases out of the shop after shopping. When you buy baby items online, they can be delivered right to your doorstep.
3. A wide range of brands to choose from
Online shopping for baby clothing gives you access to an impressive range of clothing brands. From stylish designer baby clothes online to cheaper secondhand items, you have more options at your fingertips as compared to when you go to a traditional brick-and-mortar baby clothes store.
4. Read reviews as you shop
You can look up and read reviews on clothing items before making a purchase online. This allows you to find out if the clothes you're browsing fit correctly or feel soft against your baby's skin, among other things. 
5. Compare prices
When you shop online, you can easily compare prices, helping you determine if you're getting the best deal for the clothes you want to buy.